CTI solutions
Are you looking for a link between telecommunications and electronic data processing?
Do you want to operate your phone with the help of the computer? Or do you want to save time by being able to dial the desired telephone number directly from Outlook?
Dies und mehr können wir Ihnen mit der Winet Lösung für CTI Telefonie anbieten. Der Winet CTI Client wird in zwei Versionen angeboten, die sich hinsichtlich des unterstützten Funktionsumfangs unterscheiden (mehr dazu here). For further questions we are happy to help you.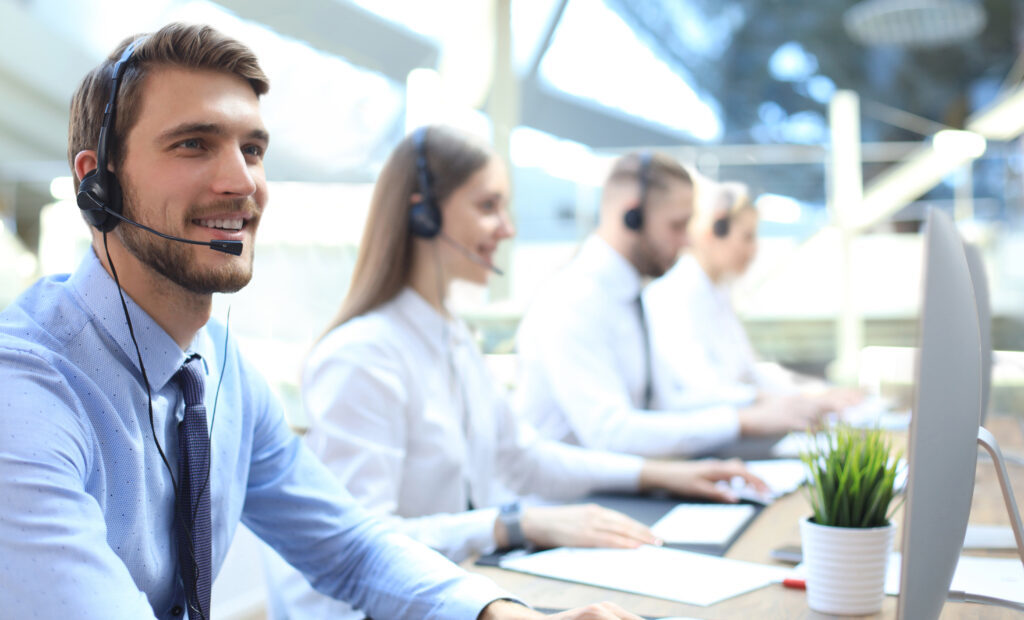 What is CTI
Computer Telephony Integration (CTI) ist die Verknüpfung von Telekommunikation mit elektronischer Datenverarbeitung. Dies erlaubt Ihnen das Telefonieren über den PC.
CTI systems in practice
Select a telephone number with a click of the mouse: In practice, the systems are often integrated into e-mail programs, eg Microsoft Outlook, and have a TAPI interface. This allows, among other things, saved contacts to be called directly from the e-mail program. In addition, some CTI modules also offer fax functionality.
IT meets telephony
The CTI enables the automatic establishment, acceptance and termination of telephone calls, the establishment of telephone conferences, the sending and receiving of fax messages, telephone book services and the forwarding of calls from computer programs.
The appropriate data record from a database with customer data can be brought onto a screen via automatic caller identification. It is also possible to keep a journal of the conversations. This technology is mainly used by call centers.
winet CTI Client (Standard / Professional)
winet CTI Server
winet TAPI for voxGate
winet TAPI for snom
| supported functions | version | |
| --- | --- | --- |
| | default | professional |
| Telephony | | |
| TAPI (dial, hang up) | | |
| TAPI (accept, consult, transfer, toggle, conference, hold) | | |
| TAPI (call diversion, call protection) | | |
| Redial | | |
| CAPI driver | | |
| Voice recording (only when telephoning via ISDN card and headset) | | |
| Control of multiple devices | | |
| Connector for xtelsio CTI server | | |
| CTI Client TAPI Connector (TAPI driver) | | |
| TAPI Connector for Asterisk TK systems | | |
| TAPI Connector for snom phones | | |
| TAPI Connector for Zoiper / Idefisk | | |
| SIP SoftPhone | | |
| TAPI Connector for Skype | | |
| ActiveX control | | |
| Outlook add-in | | |
| Data connection | | |
| Text files (* .csv, * .txt) | | |
| Load text files from web server (HTTP) | | |
| Load text files from the file server | | |
| Outlook® contacts (read / write) | | |
| ODBC (databases with ODBC driver) | | |
| Lotus Notes contacts (read access) | | |
| ACT! Contacts (read access) | | |
| combit address manager contacts (read access) | | |
| cobra Adress PLUS contacts (read access) | | |
| LDAP data sources (read access) | | |
| Data record limit (maximum entries) | unlimited | unlimited |
| maximum number of phone books (folders) | unlimited | unlimited |
| Data import | | |
| Data import via clipboard | | |
| input screen | | |
| individual adaptation of the input masks | | |
| Reputation journal | | |
| maximum entries per day | unlimited | unlimited |
| Logging in the Outlook Journal | | |
| Call term | | |
| maximum number of active appointments | unlimited | unlimited |
| EMail (sending via standard email client) | | |
| Speed dial | | |
| Monitor bar | | |
| maximum number of status LEDs | 16 | 256 |
| Conversation Notes | | |
| Document hyperlinks in notes | | |
| linked notes (e.g. Outlook memo field | | |
| Interworking | | |
| Dial from other applications via hotkey | | |
| OCR selection via middle mouse button | | |
| Choice from other applications via TAPI connector | | |
| Dial by URL | | |
| Selection via the numeric keypad | | |
| Control of other applications (transfer phone number) | | |
| Word document templates | | |
| Generate setup | | |
| Search in the phone book | | |
| last name First Name | | |
| by company, phone number, group, ID, search filter, full text | | |
CTI client standard
CTI Client Professional
CTI server presence management
CTI server client license
TAPI for voxGate (10 licenses)