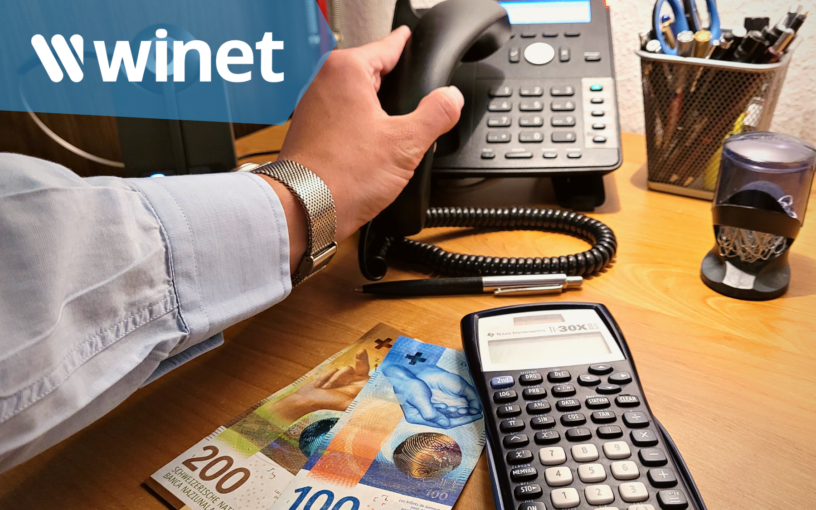 How are the costs of a pbx und auf welche Punkte muss man vor und während einer Investition achten? In diesem Beitrag gehen wir genau auf diese Frage ein und versuchen anhand von Praxistipps & kurzen Beispielen die Kostenfaktoren aufzuzeigen.
Thanks to modern automation processes and simplifications through digital developments, cost savings can be guaranteed in many business areas (this topic is also addressed in our previous article on the topic of digital customers, which we can warmly recommend to you). The trend towards global digitization also shows that company costs in telecommunications are constantly falling at the same time.
What does this mean for modern telephone systems and virtual pbx that are currently being offered? The virtual phone systemseems to be an advantageous and inexpensive solution compared to conventional telephone systems with a larger range of functions and cloud-based use as SaaS (Software as a Service). However, how the costs for a pbx are made up depends on various factors, which we would like to show you in this article.
Cost and price factors of a telephone system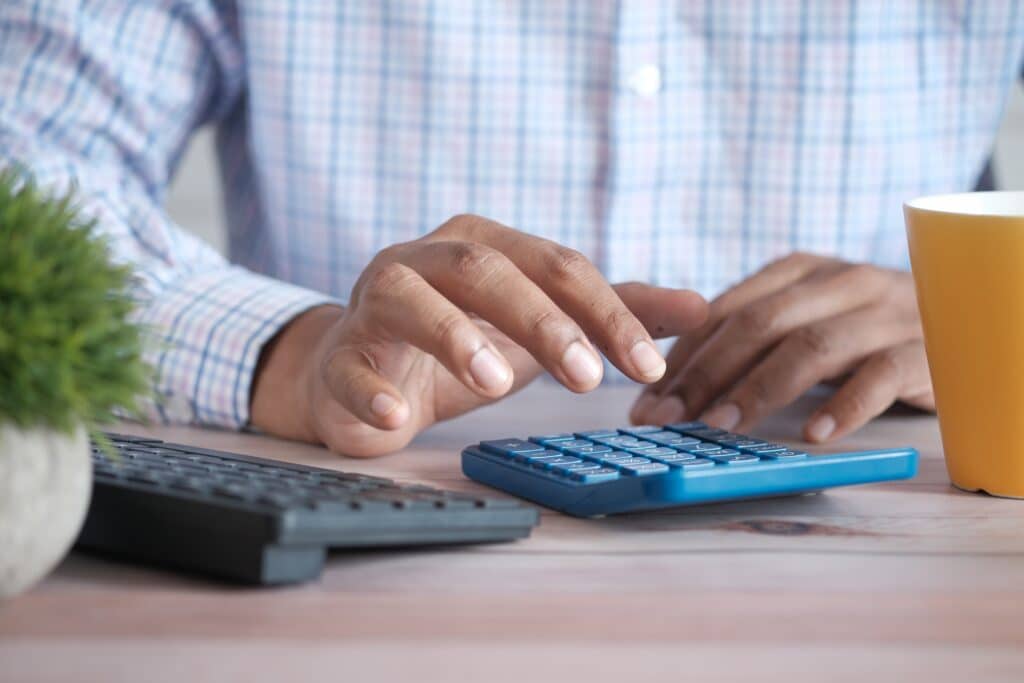 The cost and pricing of a telephone system depends on your personal preferences and use in your telephony business on the one hand, and on various factors that can be universally taken into account on the other. In the following, we will first show you which factors can influence the costs of a telephone system:
type of pbx
The range of functions
Number of employees and locations
Scalability of the pbx through new locations and employees
Use of mobile communication (e.g. field service and home office)
Installation and setup of the telephone system by experts
Customer service and maintenance
Furthermore, the following factors must be considered when it comes to the prices of the pbx:
Number of end devices resp. telephone sets
Number of internal and external phone numbers
Server operation, in-house or virtual
Basic functions vs. additional functions that can be added
Checklist related to the cost factors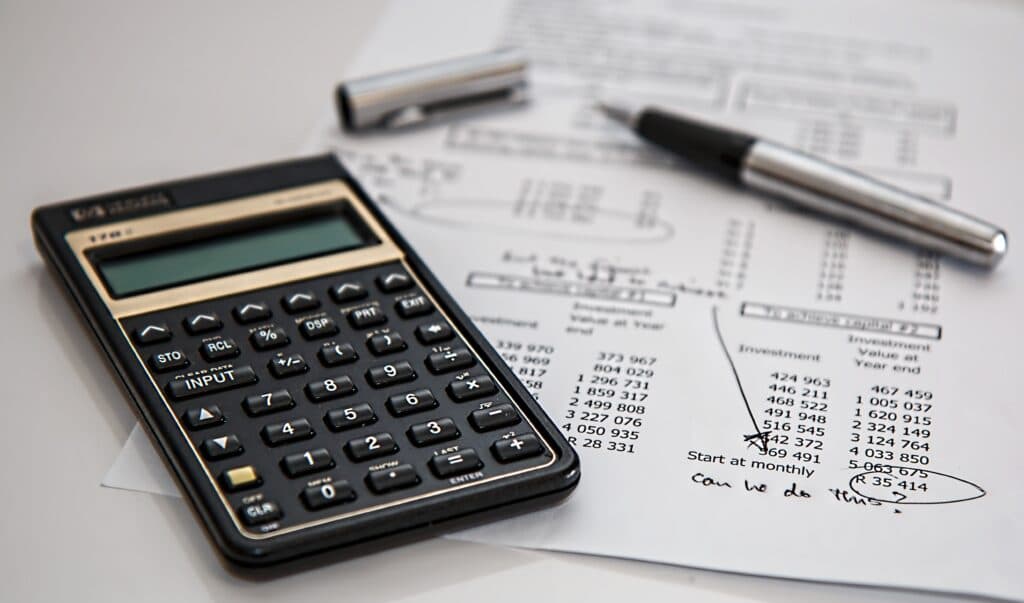 1. Which cost aspects of a pbx have to be considered?
Due to the ISDN shutdown, it is no longer worth investing in an ISDN system (physical telephone system). Instead, you should rely on a virtual telephone system from the outset. Your needs and/or the current status of your previous system determine the type of installation. Either a local installation on site or virtualization in the cloud is possible for the VoIP telephone system.
Below you will find some advantages of such a VoIP system:
For "Voice over IP" you no longer need a phone line.
You can conduct your conversations via a classic pbx or, for example, via a headset on the PC.
You retain full control over confidential data.
Phone calls and video conferences in HD quality
Flexible and custom feature settings via SaaS
With each additional workplace, the VoIP demand on the capacity of your Internet connection also increases. On the one hand, the costs depend on the speed you need. On the other hand, some providers advertise virtual pbx with special packages at specific prices in relation to the number of users. Internet costs are additional. Other providers calculate the prices in relation to the contract by setting a monthly fixed price and adding a one-off price per connection.
Below are some basic benefits of a cloud phone system:
You can use the system via your computer, smartphone or tablet.
The telephone system is location-independent. Your employees do not have to be in the office to make calls with the system.
A virtual pbx is flexible and quickly adapts to the needs of your company.
2. Which functions do you need for your pbx?
Modern telephone systems are more powerful than ever due to their diverse functions. The advantage of a cloud is that your employees and colleagues can also be reached on the go via the office number. This makes cloud telephony an excellent solution for field service and home office. The basic and additional functions offered vary from provider to provider and can vary in price.
3. How many workstations do you want to equip with a phone connection?
The number of extensions primarily determines the cost factor in a telephone system. Here the tariffs differ between the providers. Depending on the package and equipment, you can get some cost savings here. However, the overall quality should be included in the price, because, as so often, quality comes before quantity. The provider should be suitable for any size of company and thus for any number of employees or Number Extension find a suitable solution.
4. How important is mobile communication to you and do you need additional devices?
With some providers, you can integrate mobile telephone devices into the company network as required. This allows you to make free calls to the company network from your cell phone. On request, you can get additional hardware such as headphones with a microphone (headset) for the software and VoIP telephony. The scope of services and the associated costs depend on the provider and the agreed contract.
5. Can you install and administer the telecommunications system in your company yourself?
Many companies leave it to the experts to install and administer the new telephone system. Installation is included with most providers. However, today there are also isolated virtual pbx solutions that can be set up and designed flexibly by employees without a great deal of expert knowledge. This has the advantage that every employee can set their telephony preferences at any time and integrate and adapt specific telephony workflows.
6. How important is the scalability of the facility for new locations and employees?
Do you run a fast growing company? With a virtual telephone system, you can easily book extensions if required. Most providers offer such upgrades for their service so that the customer's flexibility is guaranteed even after the contract has been concluded.
The pricing of the providers and the individual cost calculation
A virtual pbx is an interesting alternative, especially for SMEs. If the telephone system is set up completely on an external server, it is a cloud pbx. The costs for virtual telephone systems are made up of the following components:
Monthly basic fee (depending on the number of participants)
Setup fee
Call charges
There are various payment models for virtual telephone systems and unified communications solutions (UCC), as with many cloud offers. The call charges are usually very similar for the different providers. Big price differences are in the setup costs and monthly fees. The packages offered also differ greatly in terms of the combination of functionalities, number of participants and service offerings.
For a better idea of the scope and the price, we will show you a suitable telephony package offer from Winet. Our Ayrix XL hostedPBX, for example, is ideal for SMEs, which is an optimal offer with 25 participants monthly costs of CHF 116.50 and one-off costs of CHF 250. The participants are equal to the number of devices that you want to use for business purposes. If other participants or telephone devices are desired, you can easily add five more participants for additional CHF 11.50 per month: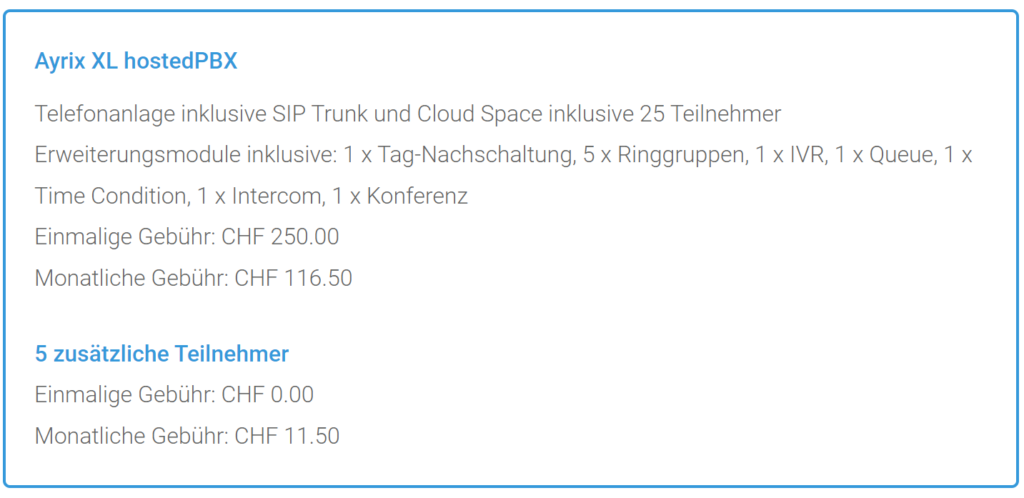 The costs for a pbx are always built up of your individual needs and requirements. In a small doctor's office, for example, the number of telephones remains relatively constant. Scalability does not play a major role for this location. For a start-up, on the other hand, quick and easy expansion with new extensions is very important. Therefore we can also show you an example from our Winet offer, which is ideal for start-ups and small businesses. With the Ayrix Small hostedPBX young entrepreneurs can obtain a virtual pbx from Winet for a monthly fee of CHF 32.50 and a one-time fee of CHF 200. And you can easily upgrade Winet at any time and immediately. Because flexibility and individual customer requests are very important at Winet: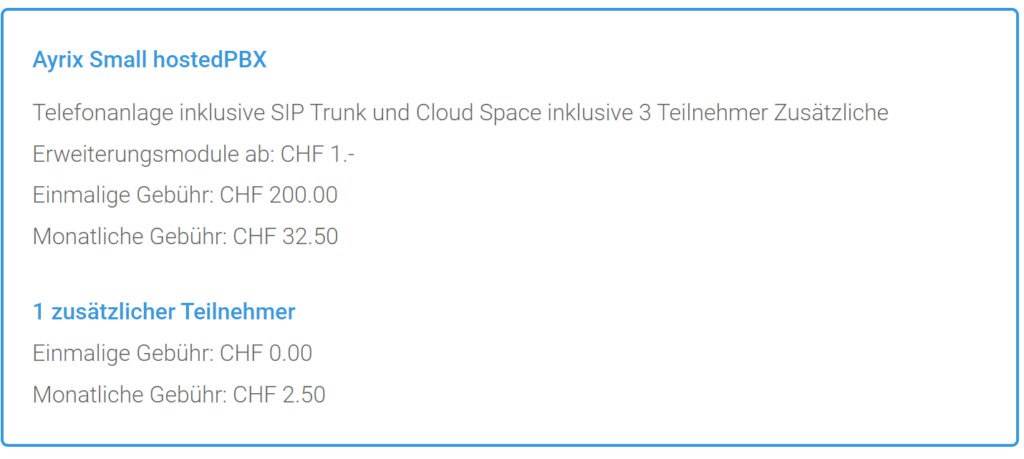 Large companies with lots of computer workstations are best off with a virtual cloud pbx. While business premises or gastronomy choose the classic phone devices for business communication in everyday work. In order to make a sensible investment in the right pbx, seek advice from experts and providers before you make your final decision. The offer should meet your flexible and user-oriented requirements. Rigid telephony solutions are not suitable in today's modern and digital world with constantly changing possibilities. This is an important point that you should not ignore when making your choice.
Summary of Cost Calculation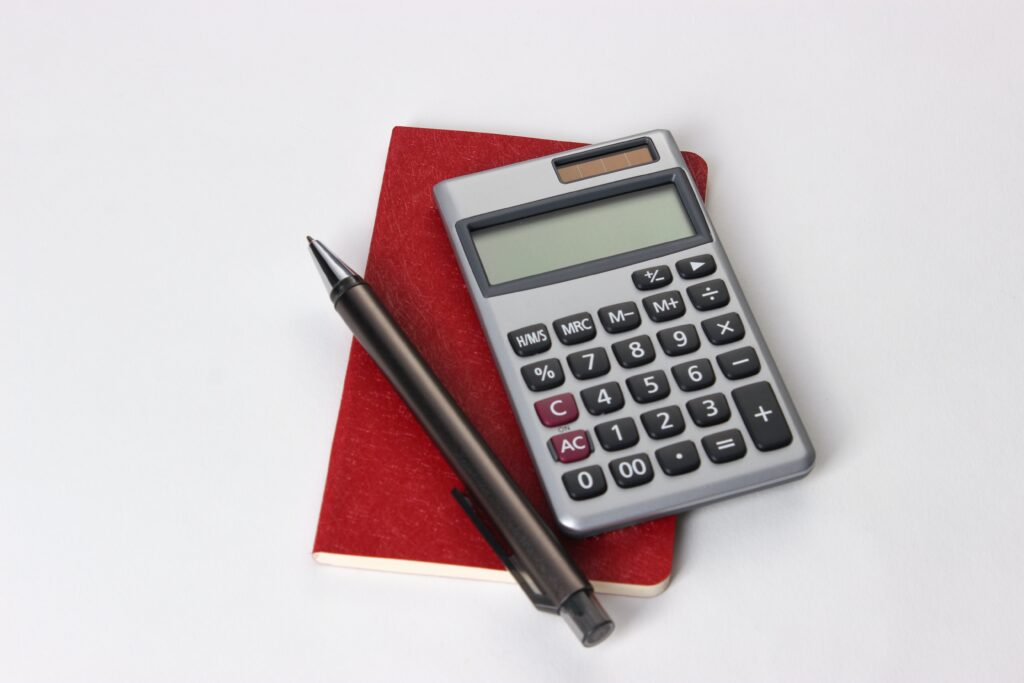 The following tips will help you to better estimate the costs of a pbx :
Most phone systems are expanded over time as new employees are added or additional functions are required. It is therefore best to negotiate the conditions for possible contract extensions at a later point in time when you conclude the contract.
Pay attention to flexible and user-specific package choices. The provider should be able to respond to your customer requests as well as possible and thus give you freedom in pricing. Rigid solutions and prices prevent you from optimally using the telephone system in the future.
Some providers offer very cheap package deals for startups and small businesses. If you also work in a smaller company, we always recommend that you ask about such offers, as they sometimes offer massive savings.
Also note the reviews of customer support and possible service options after signing the contract. Because customer satisfaction is also an essential factor, which can later be shown as a reason for investment.
No reputable provider can submit an individual offer without a prior discussion.
For smaller systems, a rough rule of thumb can be used, which is around CHF 1,000 per participant per year, although at Winet we are a lot lower in terms of costs compared to other providers. In large systems with many end devices, the price drops significantly in relation to the participants.
Finally, we hope that we have been able to help you with the above tips on the cost and pricing of telephone systems. So choose your offer and the associated provider carefully and make a checklist of your most important requirements.
Final reflexion
Finally, we recommend our established Winet offers and services. These include, for example, our Business Flat offer, which offers you the aspects and requirements mentioned above that you need for your business telephony. You have a free choice of package and can flexibly decide how you want to design your own telephone system in your company before and after signing the contract. Our Cloud PBX Ayrix is ​​suitable for this, as a modern virtual telephone system that offers you exactly these options. If you would also like a SIP trunk with an MS Teams connection, you have the option of selecting our SIP/Teams trunk offers. Last but not least, we are happy to support you in choosing your telephone system and advise you throughout the evaluation process and beyond the conclusion. If you are interested, please feel free to contact us. Because we are there for you when it comes to professional telephony solutions in your business.