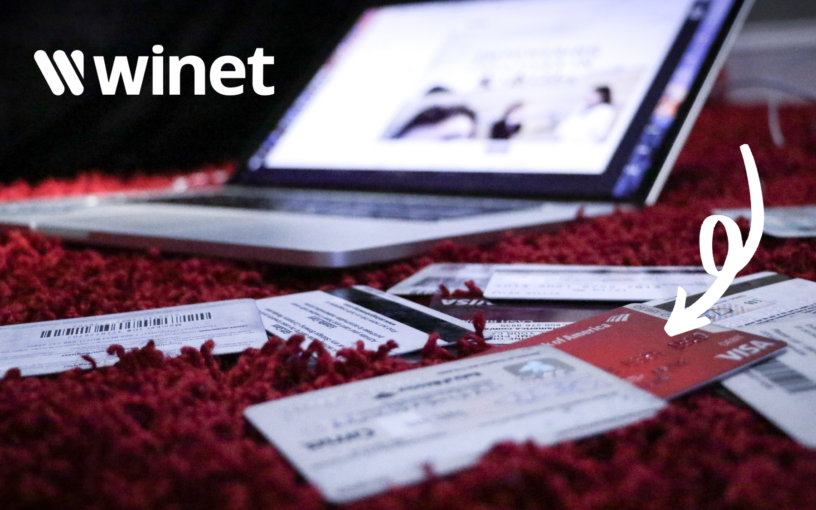 Is MS Teams integration worthwhile or are you falling into a cost trap? The trend around MS Teams is very high at the moment and many swear by the booming communication product. But if you take a closer look you can see that the MS Teams variant for business use is neither worthwhile in terms of costs nor in the usual scope. Because if you want to get a professional, high-quality and inexpensive communication solution for your business, MS Teams is not the best solution.
Above all, Microsoft is now putting one on top of that in the cost area, because from March 1, 2022, the entire Microsoft package and thus also MS Teams for corporate customers will be even more expensive than it already is. Now the question arises for many, whether they want to continue to blindly follow the trend or whether they want to rely on a comprehensive and at the same time cost-effective communication solution? In this report, we will show you what to look out for with MS Teams, why it is not worth investing and using MS Teams as a stand-alone solution in the future, and what better alternatives are there for you.
Facts about MS Teams and their usability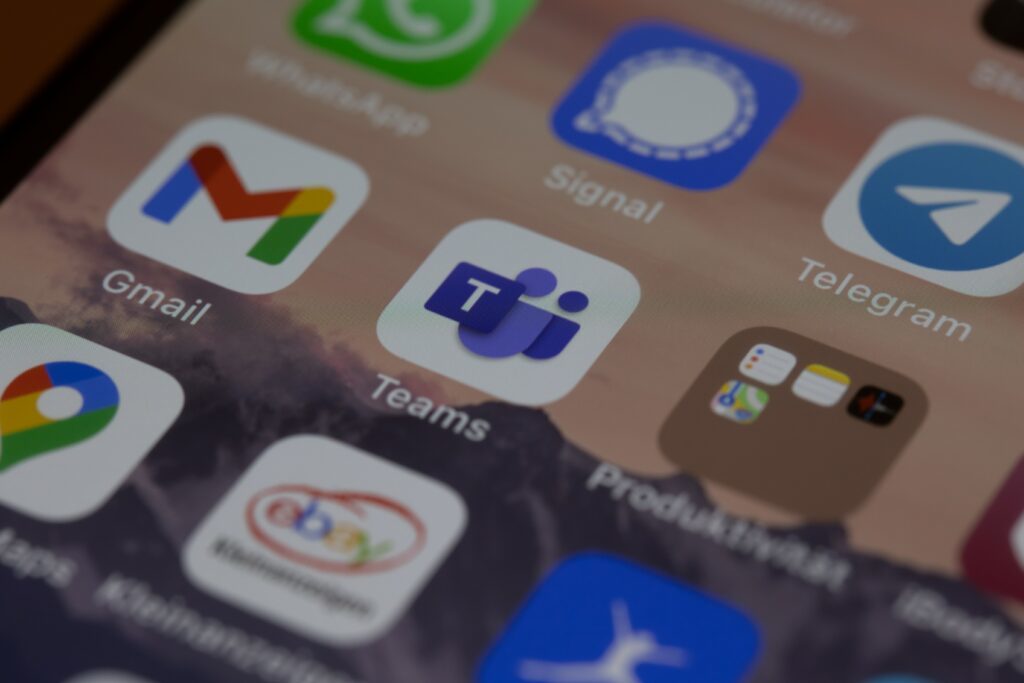 Many rely on and trust in large corporations such as Apple, Microsoft and Google when it comes to digital solutions. Since the beginning of the pandemic, the need for new communication channels in business has increased,due to increased lockdowns and increased work in the home office. Many companies were forced to discard the former and unsuitable communication system overnight and have since looked for new flexible communication solutions so that employees, partners and customers can stay connected from anywhere. At that time, the MS Teams variant quickly proved to be useful, which also gained trust with the Microsoft label without much thought and was thus integrated into our own business. Because alternatives were hardly known at that time, the companies had to react quickly due to the measures introduced and decided in favor of the MS Teams solution without much comparison.
At first glance, many companies thought that with MS Teams they had chosen the optimal solution for their business communication. You could say this for private use. However, with this solution you are clearly falling into a trap for your business. Because as an entrepreneur you want a professional communication system that is cost-effective in the long term and still allows you to use the user-defined functions that are needed for the business. And that's exactly where we come to the problem at MS Teams. Because at second glance you can see that you only get a business-friendly variant with MS Teams E5 , which also only partially meets the requirements of an appropriate communication system and a comprehensive telephone system. And when it comes to cost, MS Teams E5 pushes it all! Because as soon as you get a license for corporate customers here, you lose a lot of money in the medium to long term. And it doesn't stop there, because Microsoft will massively increase its prices on March 1, 2022, which of course annoys many MS Teams customers. A rethinking and a possible exit are already in full swing here.
Furthermore, MS Teams does not have all the functions that are needed for everyday business communication. If it is only possible to use phone calls, simple video chats and chat functions, MS Teams may still be a plausible solution. But for business and professional use, companies find that important functions such as IVR, ring groups, waiting loops and time-related telephony settings are missing, which are not only expected for everyday business, but are already inevitable. Because it is definitely important for you that professional communication can take place internally with employees as well as externally with customers and partners. In addition, with MS Teams you pay for additional functionsthat you do not need for company communication. But because of the rigid Microsoft Teams package, you have to be content with that too. So you make yourself dependent on the Microsoft license and you lack flexibility and custom package selection.
Practical example based on a scenario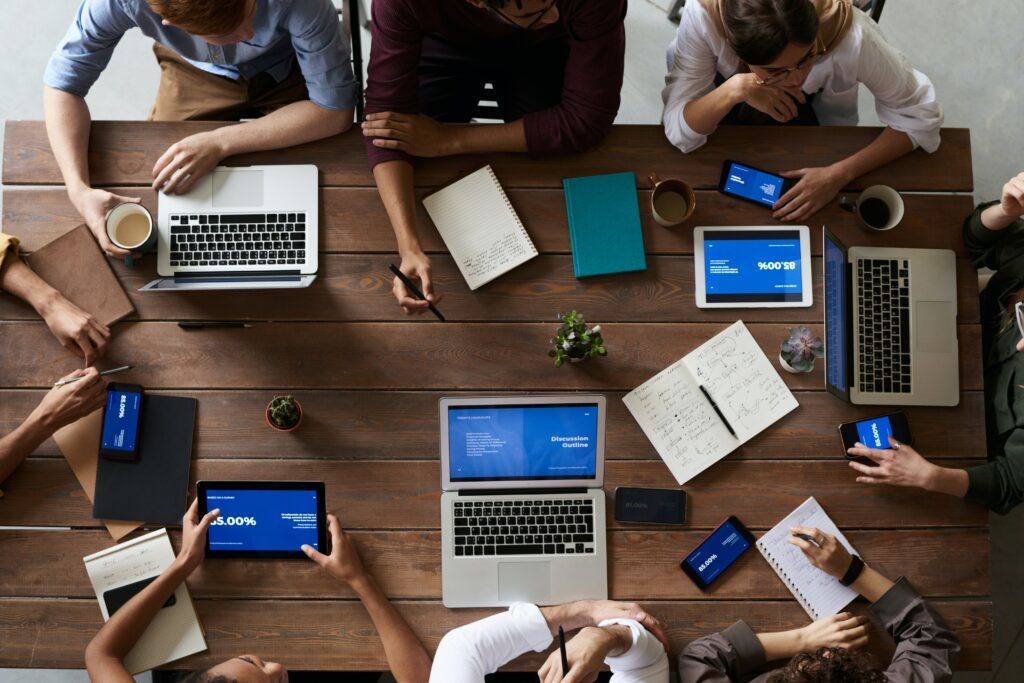 In the following example, we will use a scenarioto show you what you have to expect when purchasing MS Teams and how it compares to our comprehensive Cloud PBX Ayrix For this we take the fictitious company "Profit AG", which would like to buy a full telephone and communication system for their business.
Profit AG, with its headquarters in Switzerland, is an SME with 25 employees in the consulting area and works with several customers and partners worldwide. Since Profit AG has an outdated telephone system and therefore lacks modern digital communication channels, which are increasingly in demand, it is now time to invest in a new communication system. Because since the home office has become more important than ever and the telephony settings have to be more flexible, further development in this area has become indispensable. To do this, Profit AG compares the MS Teams variant with our Cloud PBX Ayrix and looks at how the investment and use will develop in the future..
First, Profit AG looks at the most important functions that the two products offer: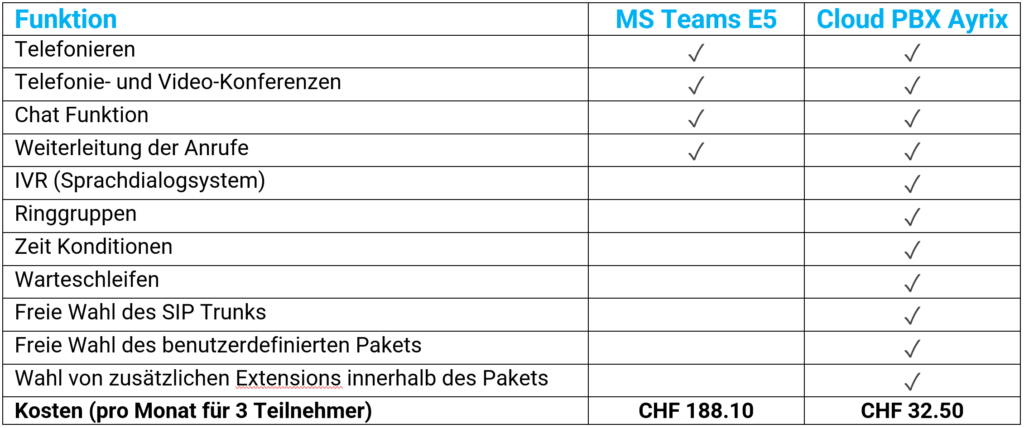 The managing director of Profit AG is already suspicious of the range of functions. Despite the upgrade to MS Teams E5, many important functions for professional telephony use in his business are missing. The Cloud PBX Ayrix also offers the most important functions that a full telephone system needs. And the first glance at the monthly costs shows enormous differences. But here Profit AG would like to take a closer look at the prices. Because depending on the offer and number of extensions, the costs are different.
What about the prices in detail? The costs are compared below: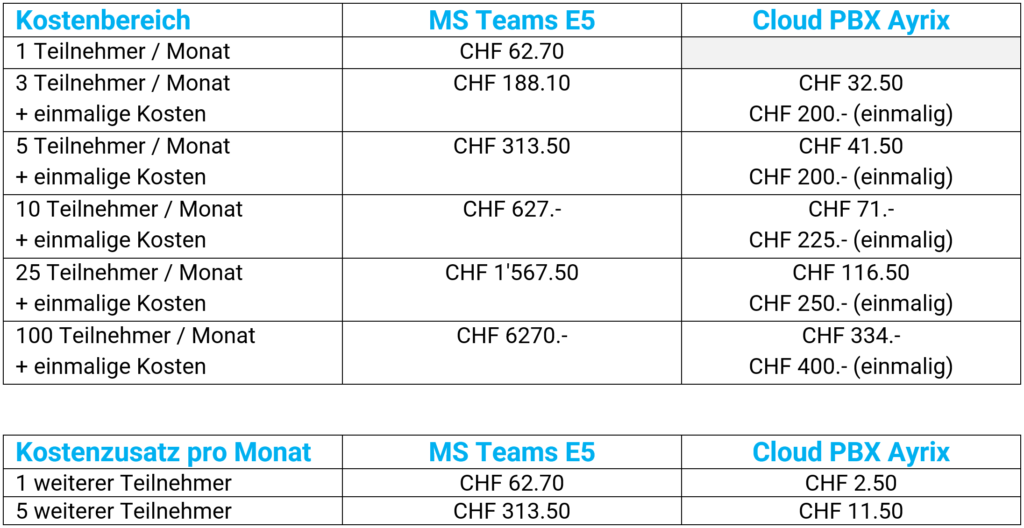 Incredible! The managing director of Profit AG can hardly believe his eyes. The monthly costs of MS Teams E5 are far beyond the scope! And this will cumulatively become extremely expensive for his 25 employees over a period of months. And if that's not enough, MS Teams costs will get even more expensive as early as 2022! Profit AG can use the full cloud PBX Ayrix instead, receives many important functions that are missing from MS Teams, and even saves a lot of money. Profit AG is now convinced and knows how to act.
In order to make this clear to you in a timely manner, we have created a time diagram below to illustrate this. This shows the cost development of MS Teams E5 compared to Ayrix for the next 5 years: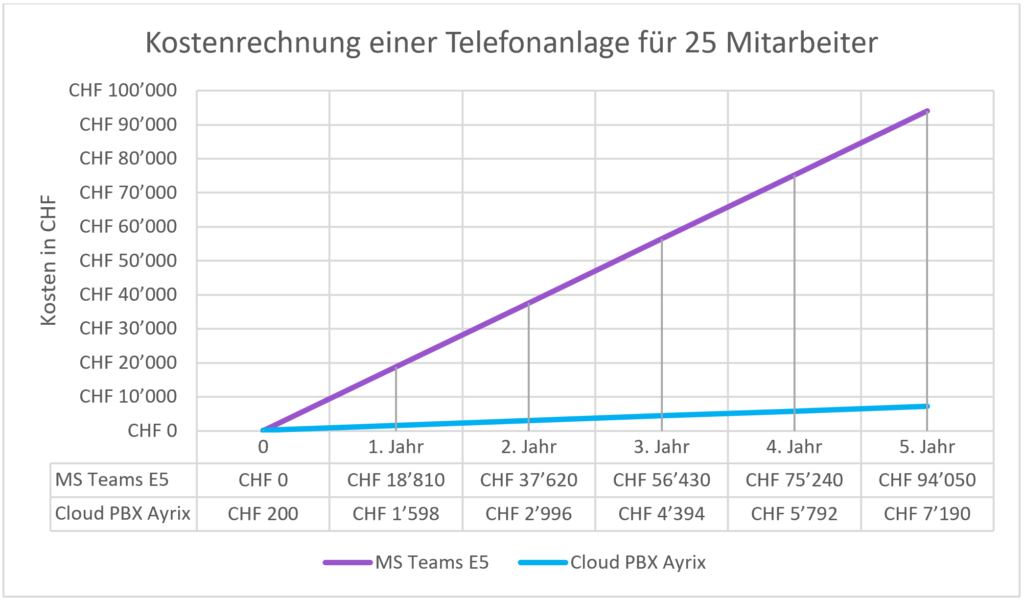 Everything is clear now. All of these points convinced Profit AG to take the right path. The Cloud PBX Ayrix is not only a lot cheaper, but also more extensive. Because why pay more money, when you get more for less money. Profit AG is pleased about the comparative analysis carried out and now knows which telephone system they will invest in in the future. Do you know as well?
Final reflexion
With this report on MS Teams and how they are used, we wanted to illustrate and show you that a trending product is not always the better solution. MS Teams is quite conceivable for simple and private use, but it does not meet all the desired criteria in the business area. Furthermore, we have seen that MS Teams is associated with very high costs and that you also make yourself dependent on Microsoft licensing. In addition, MS Teams does not have all the relevant functions of an extensive telephone system and the free SIP trunk choice is not given.
Our modern and established Cloud PBX Ayrixoffers you a better option. With the Ayrix telephone system, you not only get a professional and extensive communication systemthat can be flexibly adapted, but is also a lot cheaper. In addition, you get the freedom of choice with the SIP trunk connection and can add any number of extensions to your package. In addition, with Ayrix you can enjoy an easy-to-use user interface and the most important telephony functions can be easily configured at any time. Take your chance and benefit now from our Cloud PBX Ayrix. If you would like to optimize your telephone system or build it from scratch, please do not hesitate to contact us. We are happy to support you in the implementation of the optimal virtual telephone system and thus offer a contribution to the further development of your communication business.