introduction #
How do I connect to the adapter? #
During the initial configuration, connect your adapter to your network under "Internet". By default, you will find your Linksys adapter at the following IP address: 192.168.0.1. Enter the IP address of your adapter in a browser line (Internet Explorer, Firefox etc.)

How do I find out the IP address of my adapter? #
Connect an analog telephone or a fax machine to one of the two phone connections and carry out the following steps:
Pick up the phone
Type * * * * on your telephone keypad
Type 110# on your phone keypad
Write down the output (IP address)
Update firmware #
Before setting up your device, we recommend that you bring the adapter software up to date. How you can do this is explained in the following points.
Info: The current settings on the adapter are retained after the update.
Download the firmware #
Click on the following link to download the latest firmware: http://www.cisco.com/cisco/software/type.html?mdfid=283998771 
First select "Analog Telephone Adapter (ATA) Firmware"

Then click on "Download" for the latest version.

Then unzip the downloaded file and select it on the adapter's web interface under Firmware Upgrade.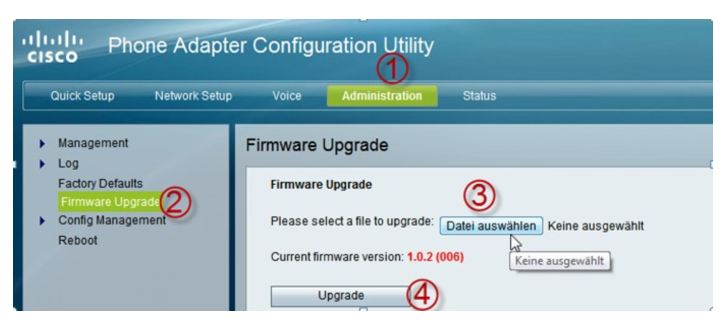 After you click Upgrade, the adapter will be upgraded. This process must not be interrupted.
Preferences #
Log in as administrator #
By default, you can log in with the following username and password:
Username: admin
Password: admin
For security reasons, we recommend that you change the password.
Configure the adapter #
SIP settings #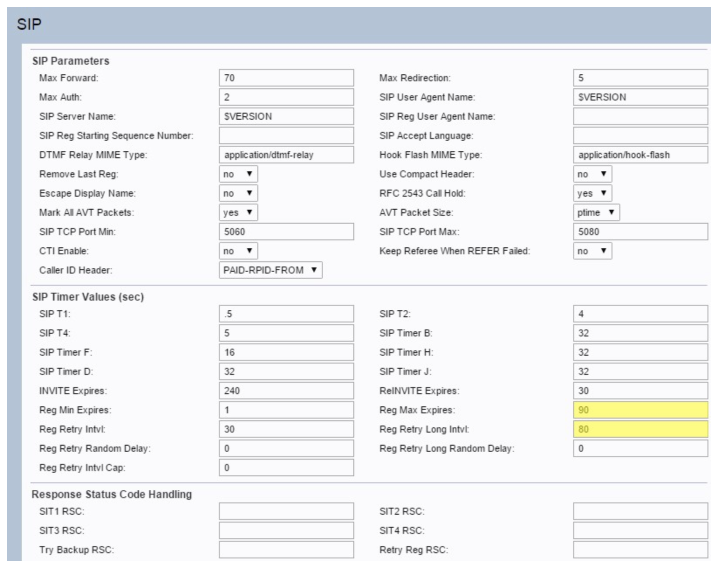 In order to be able to make the SIP settings, you have to click on "Voice" and select the SIP tab there. Here you can use the following screenshots to compare and apply the settings. The values marked in yellow are particularly important, please make sure that they are immediately entered on your adapter.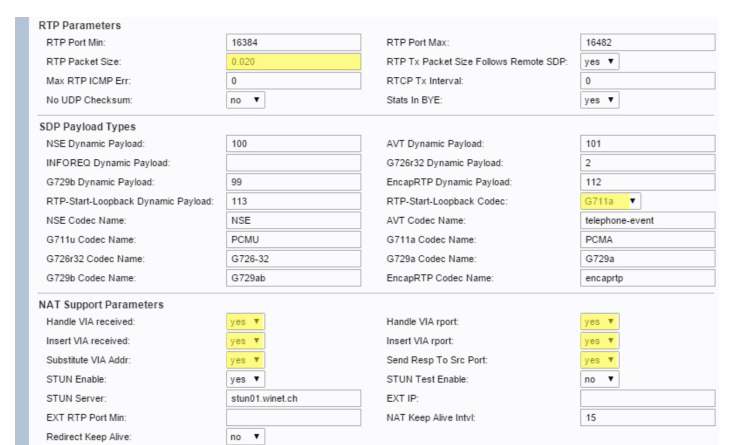 If your company has a fixed IP address, you can enter this under EXT IP and leave the STUN Server field empty.
Configure line #
Now switch to the "Line 1" tab. Here, too, you can read out the required values using the screenshots. In any case, check whether the line is switched on (Line Enable: yes).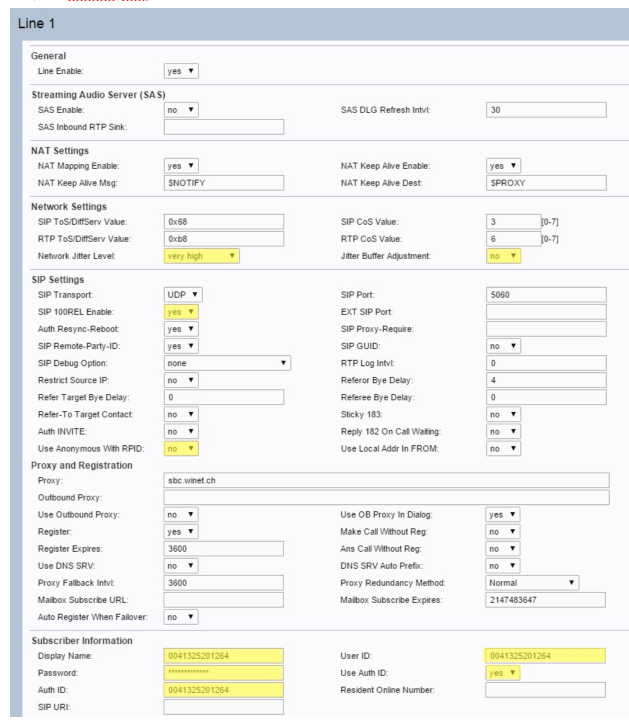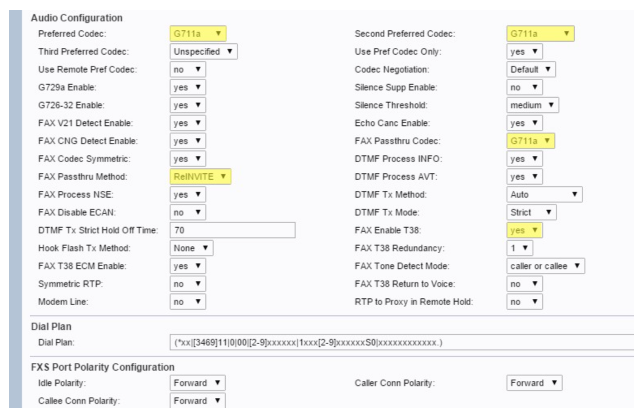 The data required for the menu item "Subscriber Information" can be found at https://my.winet.ch in the details of your fax number.
Support Winet Voicetec Solutions AG #
Für Supportanfragen oder technische Unterstützung stehen wir Ihnen mit unseren VoIP Engineers gemäss unseren Servicezeiten gerne zur Verfügung.
Servicezeit #
Die proaktive besetzte Betriebsunterstützung steht während den Arbeitszeiten (AZ) an Arbeitstagen von Montag bis Freitag (ausgenommen Feiertage) im Zeitraum von 08h00 bis 12h00 und 13h30 bis 17h00 zur Verfügung. Während den übrigen Zeiten (UZ) steht der optionale Pikett-Service zur Verfügung
Koordinaten #
Unser Customer Service können Sie folgendermassen erreichen:
eMail                                     service@winet.ch (Ticketeröffnung)
Privatkunden                      0900 66 3932 (CHF 2.50/Min)
Businesskunden                +41 56 520 20 00