quick start Guide #
Here you can see the most important functions of the X-Lite Softclient, which you can use after the installation.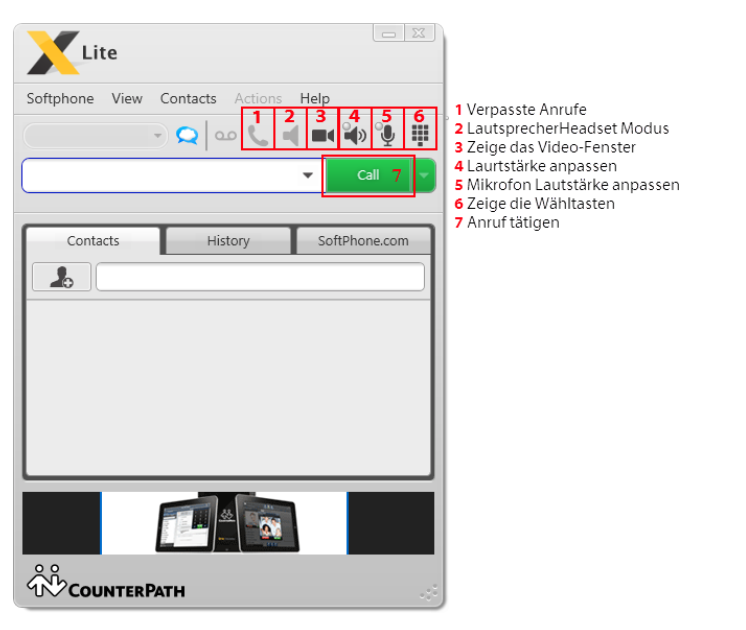 Start of installation #
Download #
First download the free download from the X-Lite client from the following website: http://www.counterpath.com/x-lite
Then select your version 4.0, which is suitable for your operating system.
installation #
First of all, read the General User Conditions carefully and accept them. You will now be asked where you want to install X-Lite. Select the desired path here.
Now choose whether you want a shortcut on your desktop, whether an icon should appear in your quick launch bar, and - or whether the program should open automatically when Windows starts.
Establishing the number #
Before you can use X-Lite with your desired number, you must first make a few changes in the settings.
In the upper left corner click on "Softphone" and then on "Account Settings".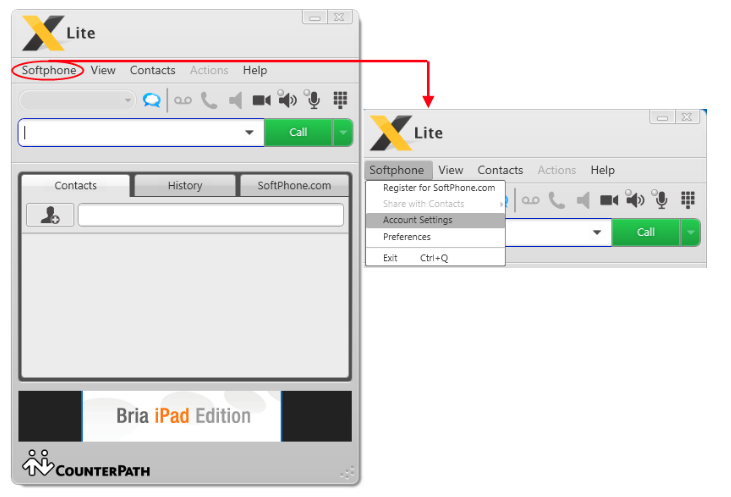 A window now appears in which you have to fill in the marked fields. To get this information, simply go to your account on the https://my.winet.ch page. There you will find "List of Numbers" at the bottom of the "Overview" tab (picture below), here you can select and click the number you want for X-Lite.

Paste the data #
Ultimately, you will be taken to a page that stores your phone number information. On the following page you can see with the help of the pictures which information you have to insert and where in the X-Lite window.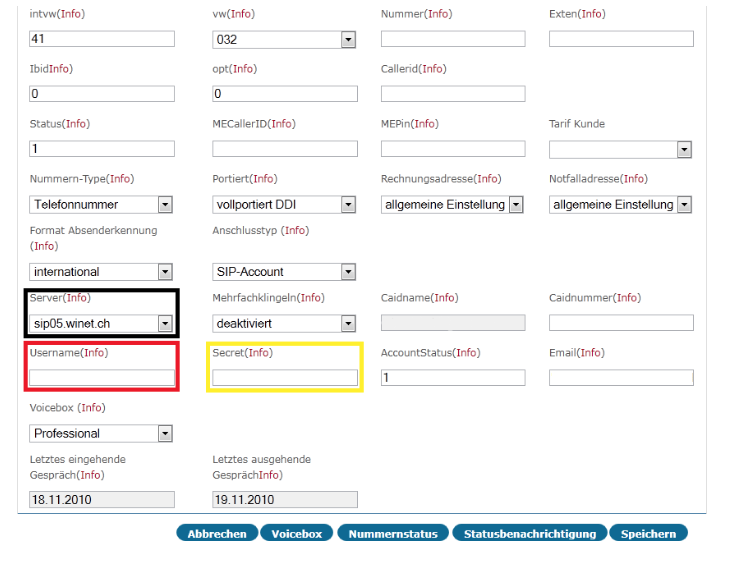 Here you can easily copy your data from the side into the X-Lite window. You can use the colored markings to see where you have to insert which data.
The last setting you should make is in the "Topology" tab under Firewall Traversal. Select "Discover public IP address" and enter the Winet server, which is stun01.winet.ch. You can leave the other two fields (User name, Password) blank.
After you have inserted this data, your X-Lite client is ready to be used. You can now use it to make calls.
Wichtige Informationen #
Mehrfach Registration #
Nicht alle hPBX unterstützen die Mehrfachregistrierung. Die hPBX von Ayrix unterstützt die Mehrfachregistrierung ab der Version 5.0.
Wenn Sie unsicher sind, ob bei Ihnen eine Mehrfachregistrierung möglich ist, können Sie uns gerne jederzeit auf customer.service@winet.ch kontaktieren.
Anzeige Format #
Das ist eine Einstellung des Handys und nicht von der App selbst. Jedes Handy hat hier seine eigene Einstellung. Bei Android Modellen gibt es auch Unterschiede. Ein Samsung und ein Xiaomi sind zwar ähnlich, aber nicht genau gleich. Hier müssen Sie selbst Recherchieren, wie es auf ihrem Handy funktioniert.
Support Winet Voicetec Solutions AG #
Für Supportanfragen oder technische Unterstützung stehen wir Ihnen mit unseren VoIP Engineers gemäss unseren Servicezeiten gerne zur Verfügung.
Servicezeit #
Die proaktive besetzte Betriebsunterstützung steht während den Arbeitszeiten (AZ) an Arbeitstagen von Montag bis Freitag (ausgenommen Feiertage) im Zeitraum von 08h00 bis 12h00 und 13h30 bis 17h00 zur Verfügung. Während den übrigen Zeiten (UZ) steht der optionale Pikett-Service zur Verfügung
Koordinaten #
Unser Customer Service können Sie folgendermassen erreichen:
eMail                                     service@winet.ch (Ticketeröffnung)
Privatkunden                      0900 66 3932 (CHF 2.50/Min)
Businesskunden                +41 56 520 20 00