Network overview #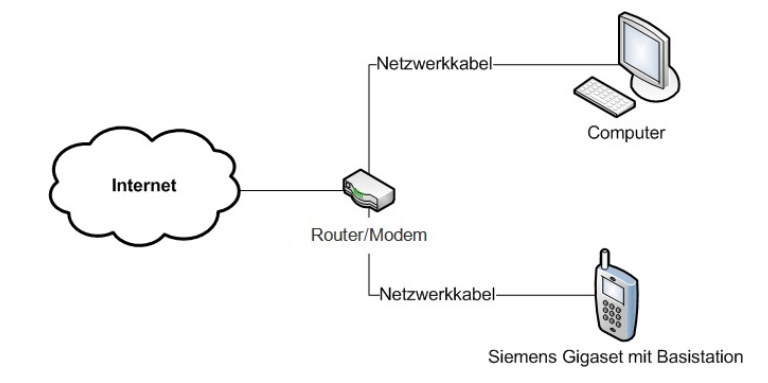 Please ensure that you connect your Siemens Gigaset telephone exactly as shown above. This is the only way to configure your phone with the computer.
Set up your number on the Gigaset #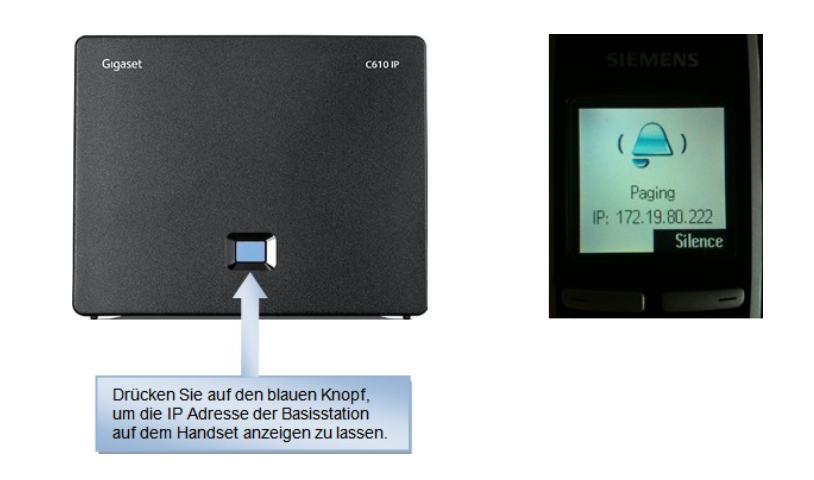 Wie gelange ich auf das Webinterface? #
Um auf das Webinterface des Siemens Gigaset zu gelangen, geben Sie IP Adresse, die es vorhin beim Paginganruf auf dem Display des Mobilteils angezeigt hat, in Ihren Webbrowser (Firefox, Internet Explorer, Safari etc. ) ein.
Example: http://172.19.80.222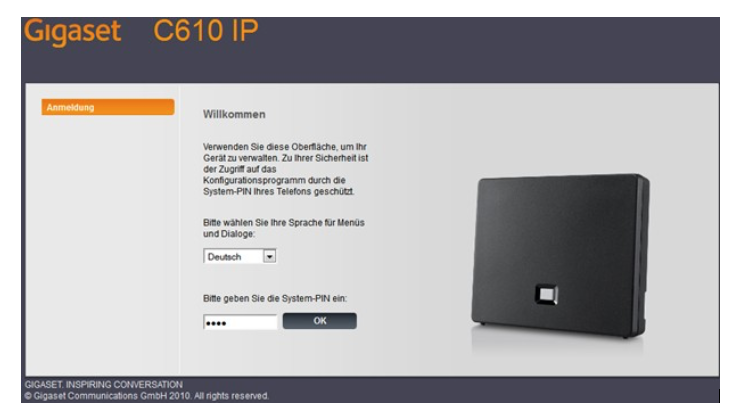 You will then be taken to the login page shown above. The standard password is always "0000".
Change the default password #
The first time you log into your phone, you will see a message asking you to change your password. However, this is not absolutely necessary.
Falls Sie das Standardpasswort ändern, beachten Sie, dass Sie Ihr neues Passwort gut aufbewahren, falls wir irgendwelche Änderungen auf Ihrem Telefon vornehmen müssen.
Home page #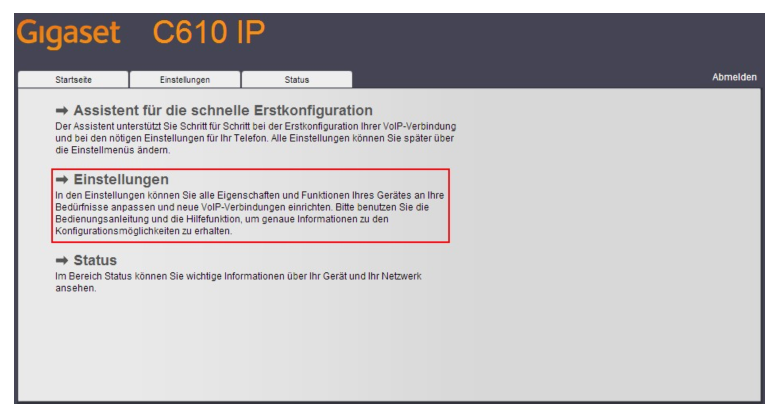 Nach dem Loginverfahren gelangen Sie auf die Startseite des Gigasets. Hier können Sie direkt auf "Assistent für die schnelle Erstkonfiguration" klicken.
configuration #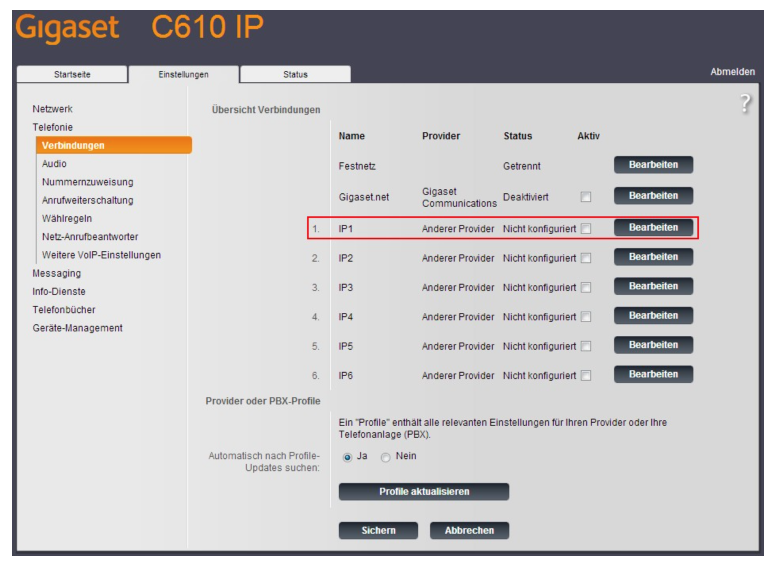 Um Ihr Siemens Gigaset für die Verwendung mit einer voxGate oder hostedPBX einzurichten, ist eine manuelle Konfiguration notwendig. Gehen Sie dazu auf Einstellungen -> Telefonie. Klicken Sie anschliessend bie der gewünschten Verbindung auf "Bearbeiten".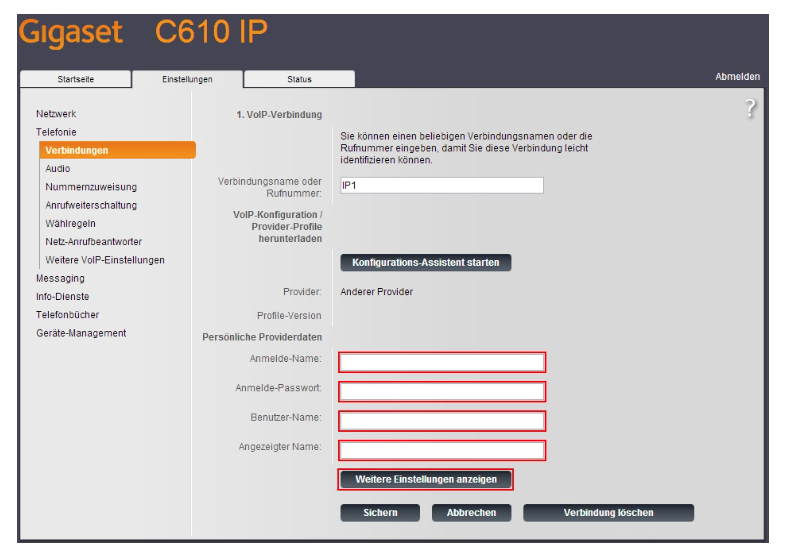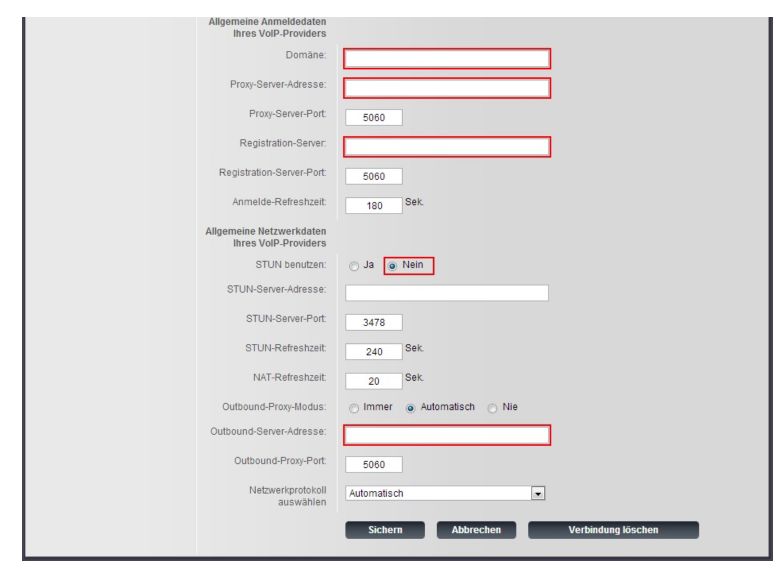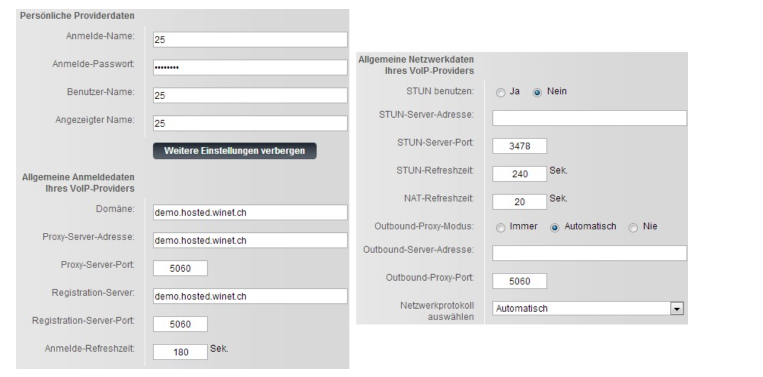 Enter your extension under login name, user name and displayed name.
Support Winet Voicetec Solutions AG #
Für Supportanfragen oder technische Unterstützung stehen wir Ihnen mit unseren VoIP Engineers gemäss unseren Servicezeiten gerne zur Verfügung.
Servicezeit #
Die proaktive besetzte Betriebsunterstützung steht während den Arbeitszeiten (AZ) an Arbeitstagen von Montag bis Freitag (ausgenommen Feiertage) im Zeitraum von 08h00 bis 12h00 und 13h30 bis 17h00 zur Verfügung. Während den übrigen Zeiten (UZ) steht der optionale Pikett-Service zur Verfügung
Koordinaten #
Unser Customer Service können Sie folgendermassen erreichen:
eMail                                     service@winet.ch (Ticketeröffnung)
Privatkunden                      0900 66 3932 (CHF 2.50/Min)
Businesskunden                +41 56 520 20 00