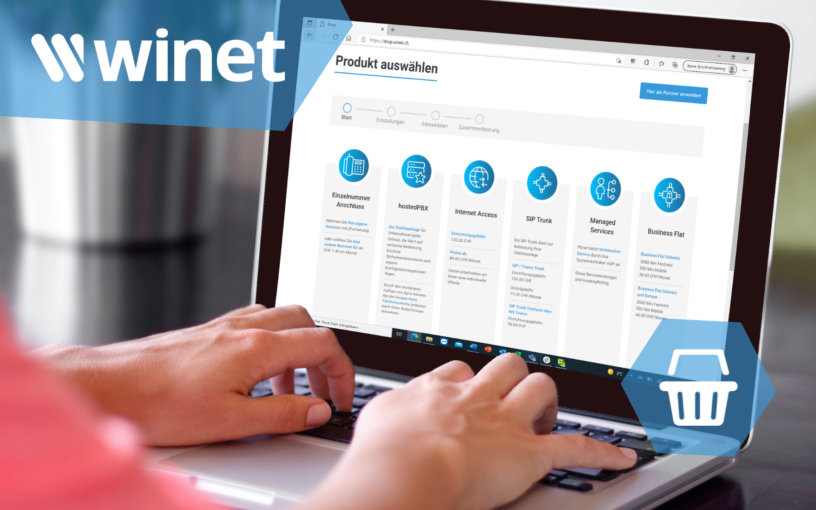 We proudly present you the new shop experience, which we have successfully expanded exclusively for our customers and partners. This includes the newly introduced Winet Shop, which gives you a large selection when purchasing Winet products and services. The new shop is user-friendly and can be elegantly navigated back and forth from one product range to another, through to the shopping cart and checkout.
The selection options are presented in a simple and understandable way and you can put together your individual package as you wish. This gives you exactly the flexible choice you need for your optimal telephony solution in your business. In addition, the new shop is also responsive, which means that it can be operated from any mobile device as well as laptops and computers.
Further information and brief insights into our Winet Shop can be found in the following article.
The product selection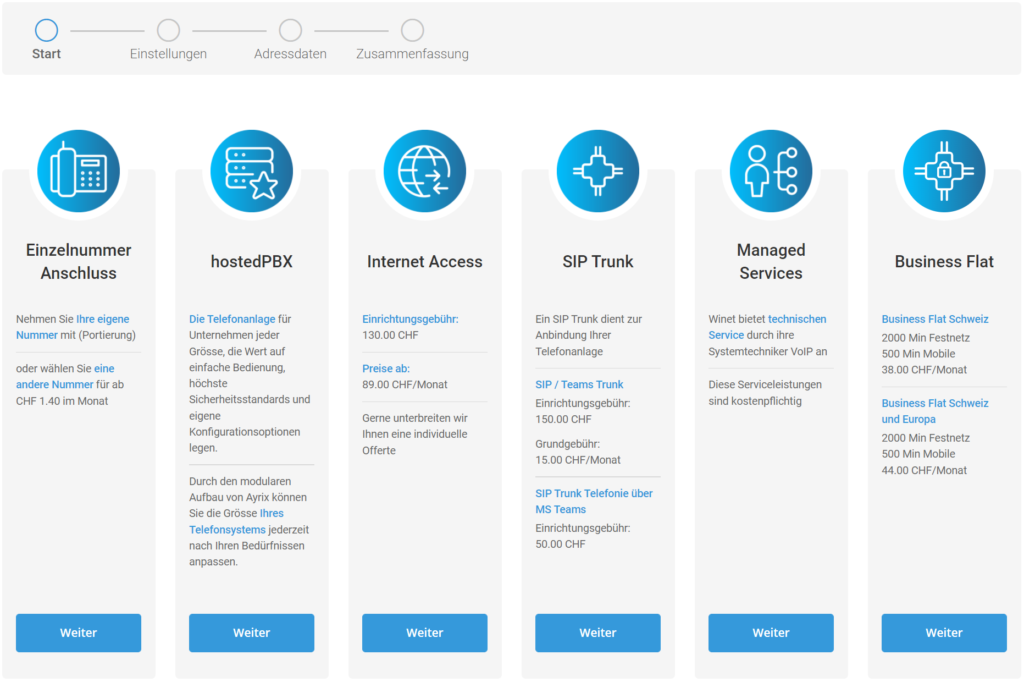 You can obtain all of our Winet products and services from our Winet Shop . The most important of these are shown below:
Here you have the opportunity to purchase our established virtual telephone system (Cloud PBX Ayrix) and benefit from the many advantages and flexible telephony functions. Depending on the size of the company and the number of extensions, you can put together your own package. You have the choice between small, medium, large up to the XL or XXL package. Of course there is also the possibility to add additional extensions to your selected offer, if this is desired. With the hosted PBX solutions from Winet, you get a modern and individual telephone system according to your wishes.
With the SIP Trunk from Winet you get a perfect solution for a secure telephony connection of your telephone system to the provider. If you also have Microsoft 365, you also have the option of including an MS Teams connection. Benefit today from Winet's SIP/Teams Trunk solution, which can be optimally established in your telephony business.
Winet's business flat rate is the cheapest business flat rate subscription in Switzerland and can be purchased by any company, regardless of size. With the Business Flat subscription from Winet, you not only benefit from cheap tariffs in the Swiss mobile and fixed networks, you can even extend your package to the European network. You will receive an ideal telephony offer for your company, where you can flexibly design according to your own choice. Take a moment and find out about our Business Flat offer to benefit from the best telephony solution for your business.
Here you can select the numbers you need for your business telephony. You have the option of porting your current number or choosing your own number at an additional cost. You have the choice between repeating blocks of numbers through to attractive top numbers.
If you want flawless Internet access with LTE backup in your business, Winet Internet Access is the perfect way for you to do so. Choose your monthly Internet package of your choice and benefit from a secure and fast Internet connection in your company.
Here is a selection of various useful additional services offered by Winet. Our service technicians are available for you around the clock and 7 days a week and offer you professional support and competent advice. We respond to your customer requests as best we can. Add extensions and fix any faults quickly and safely.
Final reflexion
Let yourself be surprised by the new shopping experience and take a look at our Winet Shop past. We are sure that you will find exactly the right choice for your business telephony with us.
If you have any questions or would like non-binding advice for your business telephony, please feel free to contact us. We help you with the ideal telephony solution in your business and respond to your individual customer requirements. With our 17 years of professional experience in the VoIP business, you are in competent and safe hands.